Elmer Hinton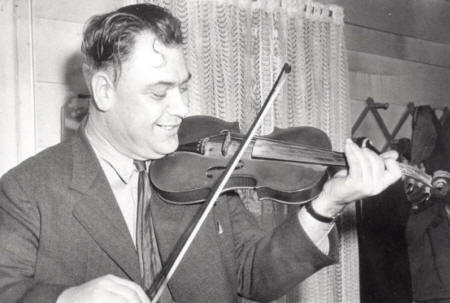 Elmer Hinton was born April 26, 1905, on a farm near Mitchellville. His formal education was obtained at Cold Springs School. Elmer spent 18 years on the Sumner County Commission (then called Quarterly Court), and served on the Roads Committee, among other things. He was instrumental in lobbying the State to build Highway 109 north through Portland.
Elmer married Lucille Woods in 1926. He founded Upper Sumner Press in 1931, and wrote and printed the paper until 1948. Elmer bought the The Portland Herald in 1942 and merged it with the Press. He sold the Press in 1949 to Charlett Enterprises, publisher of Clarksville Leaf Chronicle and other papers, but continued to write and edit the Press until about 1955.
Hinton was twice Mayor of Portland, first in 1939. He conceptualized and helped organize and promote the first Middle Tennessee Strawberry Festival in 1940. He was elected a second time in 1945 or 1946; his terms were not consecutive. Hinton was responsible for beginning the Portland Natural Gas System in his second term as mayor.
Hinton started working for the Nashville Tennessean in 1942 as general assignment reporter, and later as Copy Editor and State Editor. He then became a columnist, originating Down To Earth with Elmer Hinton. His column became the most popular and widely read article of any Nashville newspaper of his time. Hinton served as President of the Middle Tennessee Chapter of the Tennessee Press Association and Director of The Tennessee Press Association. He was keynote speaker of the 1962 Alabama Press Association Convention, and collaborated with men from the Alexandria Lions Club to establish the Down to Earth All Day Singing, a Gospel Music event featuring just about every professional Gospel group in the industry over the years. This singing the largest event of its kind in the world for many years.
Hinton served as master of ceremonies (MC) of the Wally Fowler Allnight Singing, held at the War Memorial Auditorium in Nashville for many years and as MC of the Centennial Park Concert Series on Sunday afternoons for many years.
Let's Do Away With August was a book that featured a collection of his columns. It was published in 1970.
Elmer Hinton passed on December 5, 1979.
(Biography provided by Randall Hinton.)