2.8 miles northeast is the site of Cold Spring School. It was built on land donated in May 1857 by Thomas Baskerville for a school and meeting-house. Early in the Civil War, it was used by Camp Trousdale as a military hospital. There, in 1866, David Lipscomb organized the Portland Church of Christ. Landowners Jim and Bill McGlothlin gave the schoolhouse to the citizens of Portland for a museum of local history. In September 1975, it was relocated to Richland Park."
Cold Springs School is an historic display of the Highland Rim Historical Society in Portland (Sumner County), Tennessee. Over the years, Cold Springs School has served a variety of purposes, including:
A Civil War Hospital

A One-Room Schoolhouse

A Private Residence

A Farm Building

A Museum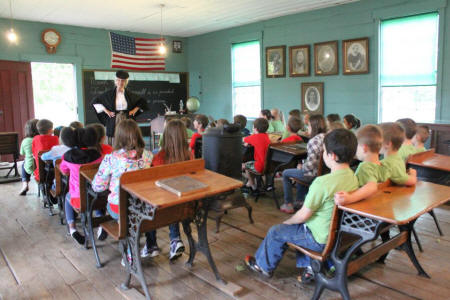 Today, Cold Springs School has been fully restored into a one-room schoolhouse and is now located in Richland Park, just north of the Portland Public Library of Sumner County. The Library is located at 301 Portland Blvd, Portland, TN 37148.
Below is an interesting article on the Preservation and Maintenance of Cold Springs School
by Teresa Keen
PreservationandMaintenance.pdf